Attractive additional revenues for your online store
Are you looking to thank your customers and earn additional revenue for your online store? Use your checkout page to place special offer packages preselected to suit the online buyer.
There are over 1,300 special offers
in our portfolio and can place them in a targeted fashion.
Up to 5-digit additional revenues
are possible using Sovendus Select.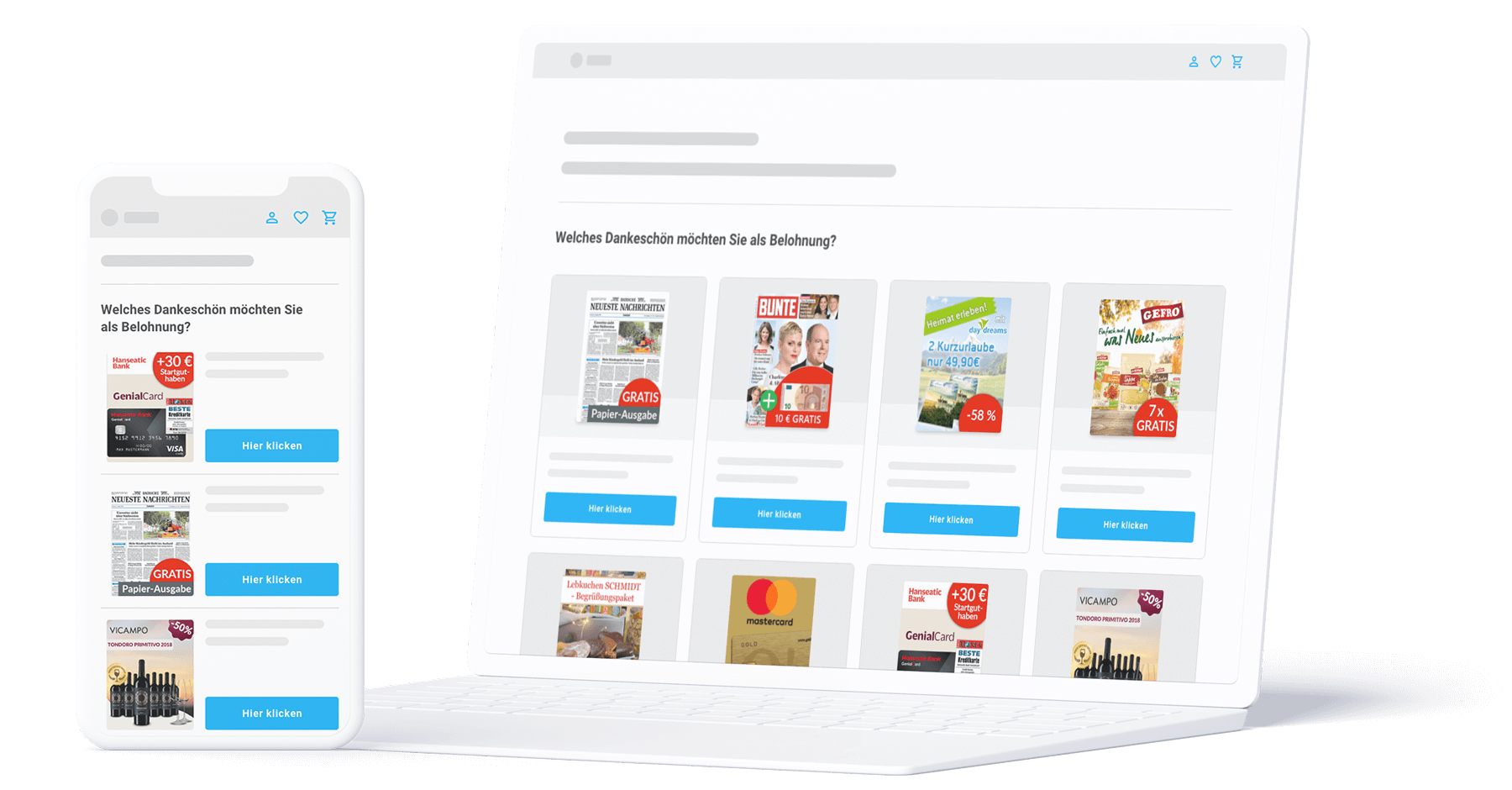 Product selection
A wide range of products for your checkout page
Our product portfolio includes more than 1,300 special offers. Whether a daily newspaper, magazine or trial package - there is something for every one of your customers. With the space you allow to the benefit packages, you determine how much additional revenue you will receive.
Are you a product supplier?
Market your product through our network and attract new customers and additional sales.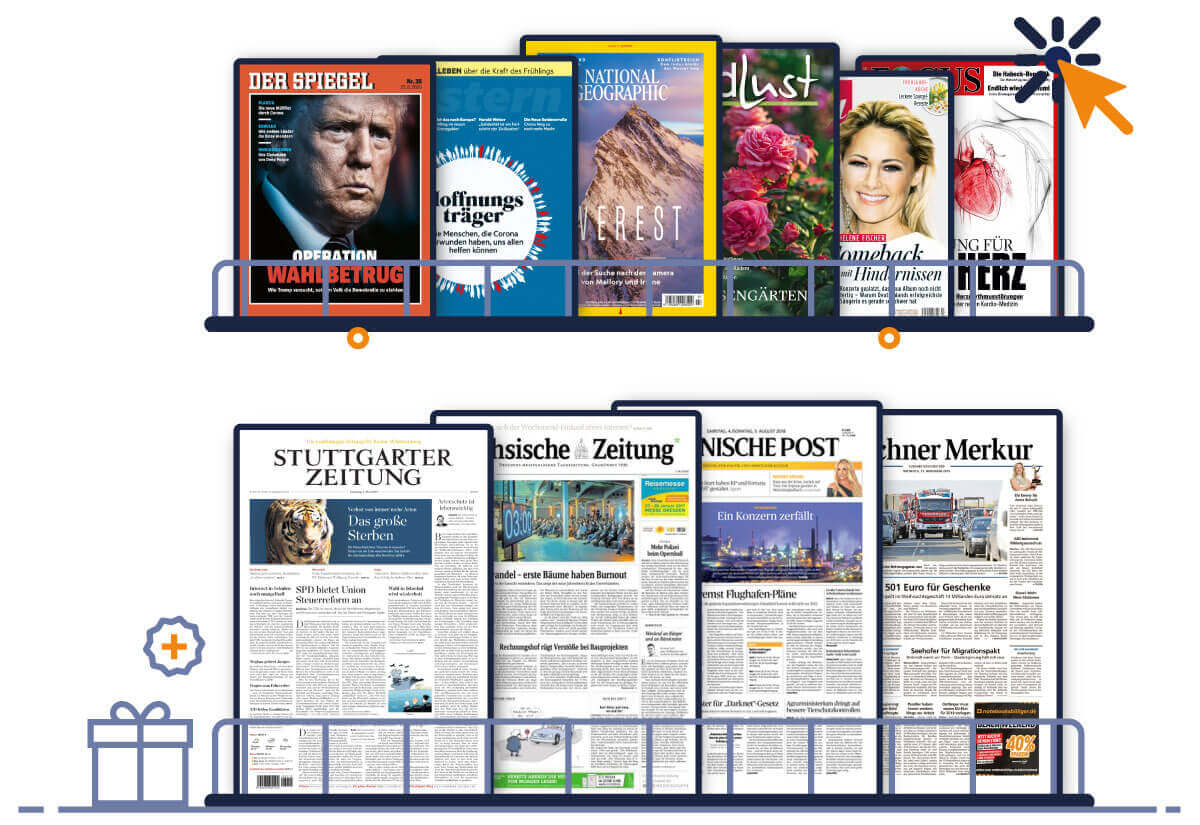 1. The post-purchase reward
Special offers from our network appear on the checkout page of your online store as a thank you for your purchase.
2. Individual draw
Special offers are placed to target the particular online buyer based on the information available.
3. Increase your revenues
Both sides benefit from Sovendus Select: Your customer receives a personalised thank-you and you gain additional sales.
The benefits of Sovendus Select
Place our special offers on your checkout page and profit from valuable additional revenue. We would love to advice you and demonstrate all the benefits of our solution in a face-to-face meeting.
Up to 5-digit revenue increases for your online store
We generate risk-free additional revenues for you. Our range of remuneration models guarantee you maximum flexibility.
Additional risk-free revenues
Flexible compensation models
No minimum contract duration. No setup costs
Large selection from over 1,300 product offers
Whether a daily newspaper, magazine or trial package - thanks to our wide range of products, your customers are sure to find something of interest among them.
Daily newspapers, magazines, trial packages
In the look & feel of your store
Desktop, tablet, mobile & app compatible
Increase customer loyalty through individual draws
Script integration takes only 5 minutes. The different product offers are placed in a personalised manner without any effort on your part.
Target group-specific product draws
Product placement based on postcodes
A/B testing
Have you got 10 minutes?
Would you like to know how you can increase your sales through our network? We would be more than happy to show you how it works in an obligation-free test drive.
Modern technology – trustworthy and reliable
Data security is of utmost importance to Sovendus. We comply with current data protection guidelines during the software development lifecycle, for instance:"Security and Privacy by Design / Default". Data security and privacy are followed when adding new requirements.

Encryption
We use symmetric and asymmetric encryption to protect our systems. Only authorised employees have access to the keys.
Pseudonymisation
If personal data is required when comparing data, the data is pseudonymised using a hash function prior to comparison.
System failure protection
Our hosting service providers based in Germany guarantee protection against failures through highly available power supply and fire protection.
Failover solutions
We use failover solutions to switch to a standby solution at any time in the event of a malfunction to the productive system and to maintain operations.
Security checks
Internal employees and external security companies carry out regular security checks to ensure the resilience of our systems.
Certifications
Our hosting service providers' data centres are located in Germany and are regularly audited and certified according to BSI Basic Protection and DIN ISO 27001.
Curious about our other services?
Sovendus Sales
Generate sales and acquire new customers via our voucher network with 5 million online buyers.
Sovendus Mail
Reach over 2 million active online buyers via our Sovendus mailing list.
Sovendus Products
Market your product in our network and reach 20 million users per month.
Sovendus Leads
Get high-quality newsletter addresses for your own mailing lists.
Get in touch.
With Sovendus you can offer your customers a unique shopping experience. We would love to provide you with some personalised advice and demonstrate all the benefits of our solution in a face-to-face meeting.